Simply Sfat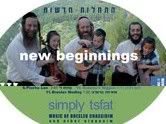 Album can be previewed/purchased at Artist's web site: Simply Sfat.com

Reviewer: Mindy
I have probably mentioned before that the violin is my favorite musical instrument. I'm very big into "emotional" music, and the violin just tugs at my heartstrings. I think the violin is a very "Jewish" instrument – I've seen pictures of Rebbes playing it in front of the Chanukah lecht, and there are many folk drawings of Jews of old playing the fiddle. It's one of the instruments that go back way to the days of – was it Tuval Kain or Yuval who created the first musical instrument?
In any case, there isn't very much out there in the way of JM featuring violins. I'm a huge fan of the Miri Ben Ari album because of the violin, but that's all there really is. Therefore, as soon as I heard Simply Tsfas when they came out with their first album, I was intrigued by their use of the violin. It took three albums for me to become a real fan. After watching their video clip on their web site, I was sold. After all here, are three chassidishe (Breslov) guys with beard and payos, playing old, haunting, lilting niggunim with violins and guitars. What could be better than that? Avraham Fried said on his recent shmooze on Five Towns Radio that Jewish Music is music that makes you feel Jewish. Well as soon as I started hearing the first tune on this album, my Jewish spark rose up and I was seriously bouncing along in my seat and tapping my toes. But this wasn't the type of feel-good entertainment-driven toe tapping – I felt a genuine happiness to be a Jew.
Oddly enough, despite the fact that they are Chasidim and look very chasidish, they tend to attract the modern crowds and perform at modern venues. I never seemed to get it; the chasidishe community doesn't know much about them and don't really buy their albums, yet they are very picked up by the types of people who enjoy "other" bands, not the Boro Park type music.
The vocals are actually nothing to write home about. Neither of two vocalists have great voices. But like Chaim Dovid, R' Shlomo, and a couple of others who are huge despite their second class vocals, the music and the message is what makes this band so attractive.
Eliyahu Reiter plays the acoustic guitar and is a vocalist. I think he is also basically the spokesperson of the group. He does most of the talking during interviews. He is American born. He is has a salt-and-pepper beard.
Yonatan Tzarum plays the classical, acoustic, and electric guitars. He is also a vocalist. I don't know if he's American or Israeli. He's the guy with the short black beard.
Yehonasan Lipschutz plays the violin, and doesn't sing. I don't think it's easy to sing while you play a violin ;). He has a long beard and tzitzis out on the cd cover and the pictures/video clip.
The percussion is done by Yoni Madar and Shani Ben Kanar on one song (maggid's niggun). Bass by Eyal Peled.
The childrens' vocals are the band members' kids. I chortled when I saw that they each have a Nachman! Haha! The kids are: Nachman Yosef Reiter, Yisroel Matisyahu Noson (Yummy) Reiter, Nachman Tzarum, Yaakov Yosef Lipshutz, Efraim Lipshutz. It also says: Special thanks to Natan Tzarum for keeping quiet in the studio. Lol.
I assume these guys live in Tzfas.
The cd insert is amazing. The front pictures the three members fo the band with their sons. Inside there are additional pictures of the boys. Such cute, bacheinte little boys with curly payos. It's such an unusual thing to see on a Cd cover.
The back cover has an adorable pic of the three little boys from the front cover with their father's Breslover hats on their heads and holding their father's instruments. That Lipshutz kid is too cute. The back of the jewel case has the three boys holding the instruments on their shoulders.
I definitely recommend that you visit http://www.simplytsfat.com. You might become a fan after watching their video clip!
In addition, every song has an explanation written to it, which I will type up as I go along with the songs.
Simply Tzfas "New Beginnings" has been out for quite a while now – I think Since most of the songs on the album are niggunim, and it's hard to describe the niggunim, I'll keep the song descriptions short.
1. The Maggid's Niggun. The song starts out with very rousing string work. I love this song. It just makes you want to get up and dance, and it definitely makes you happy to be a Yid. According to the cd insert: A lively dance melody, attributed to the Great Maggid of Mezritch, the foremost student of the Baal Shem Tov. Often song in Breslov, Tsfat after morning or evening prayers. Well, if this song indeed hails back all the way to the Mezritcher Maggid, then this IS authentic JM! The song has a very nice violin interlude. I like the way the percussion is done. In general this is an excellent song to start off the album with and really get you in the mood of the rest of the album.
2. Running and Returning. This is a mostly instrumental tune, by acoustic and electric guitar, and the violin joins in later. It starts off slow and then picks up the tempo. According to the CD insert: An awesomely beuaitful tune written by Yontan Tzarum. The tune comes in climax with some vocals, as is found in the Flamenco style. Ahhh, so this is an original tune. I don't know what Flamenco style is, but this song certainly is very unique and original. There are some vocals at the very end of the song (Melech Rachmon Ohev, Melech Rachmon Rotzeh, Melech Rachmon Mechakeh L'Amo Yisroel), which add some spice to it.
3. Melech Rachaman. I love the violin intro and the percussion. It's a nice chasidishe melody with a lot of vocals. According to the CD insert: These words appear in the Mussaf prayer for the Holidays but we have chosen the version from Tikkun Chatzos to emphasize the feeling of yearning for the Beis Hamikdash. The melody is traditional is usually sung when Breslov Chasidim gather during chol hamoed pesach to say the birkas haIlonos. This song features the kids' choir in the background. It's a slightly familiar tune but the intro and interlude, done by the violin, gives off a very yearning, haunting quality. Good song.
4. Shabbos Kodsheinu. This is the song that sold me! I watched it on a video clip on Simply Tsfat's site and was hooked. It starts with some cool slow violin intro and then speeds up into a rousing, lebedik tune that will have you clapping throughout. According to the CD insert: This upbeat dance tune is usually sung in anticipation of Shabbos or Shabbos itself. I believe this is a popular niggun, and is sung at Chasidishe weddings with slight variances. I love the guitar work in this one, and I loved watching the clip. The way the other two guys' hands fly on the guitars – and they are sitting DOWN while singing, so they are not dancing or swaying or gyrating to the music – pure niggunim performance.
5. Lcha Dodi. Once again this song is started with the violin. It's a slow, lilting melody. It's a spinoff of the classic "V'haya Bayom Hahu, Yitoka BShofer Gadol". It's very soothing, mellifluous, the type of song that can be done in a camp kumzitz with the lights out, half asleep on the casino floor.
6. Lcha Dodi. A second Lcha Dodi song, this time so lebedik that you are guaranteed to clap your hands and bounce in your seat. According to the CD insert: This lively Ukranian Chassidic melody is also a favorite in Breslov, Tsfas for the last 3 verses for Lcha Dodi. It's also use fo the words "mitzvah gedolah liyhos besimcha". Indeed, the song alternates between Lcha Dodi, Mitzvah Gedolah, and a third verse "Ein Shum Yeush B'olam Klal". One thing is for sure, that when you need a song to lift you up out of whatever doldrums or cobwebs are clouding up your life, this is the song to listen to. The percussion and violins just have you rocking!
7. A Niggun from Uman. Another lively niggun. According to the CD insert: We were gold by an important Breslover that this nigugn comes from Uman and was often sung in the circles of Rav Avraham Sternharz after he taught. Often used in Breslov, Tzfas for the second half of Lcha Dodi or a dance. I love the violin solo in this. These niggunim just make me happy to be a Yid, and happy to be alive.
8. Yechadshehu. Very moving, heart-tugging instrumental, heavily featuring violin. This really wakes up your yearning to HaShem and Yiddishkeit, and really reminds you of the Olden Days and the Alte Heim. Definitely a reminder of who we are and who we should be. From the CD insert: A beautiful, traditional, Bresolv melody sung Shabbos morning during the blessing of the new month. Here it is presented as an instrumental.
9.Pischu Li. The only song I really don't like on the album. It's composed by Eliyahu Reiter and I think he sings most of it. The song sounds a little "off" to me, I don't know why. But it's a nice guitar tune (arranged by Yonatan Tzarum) for those guitar lovers.
10. Rabeinu's niggun. Once again a slow niggun, featuring the violin. A deep melody sung without words at the communal third meal of Shabbos in our Shul or at aother occasions before R' Nacham's teachings are given over. It is sung at Bresolver weddings as the bride walks around the groom 7 times. Here it is given breathtaking expression by the violin and guitar. I am nowhere near a Breslover chosid, but this description is so true. If this is indeed the music they use when the kallah walks around the choson, it must be gorgeous!
11. Breslov Medley. This toe-tapping, rousing medley is a perfect way to end off the album. It features four songs: Bach Rabeinu, Ashreinu, Mi Yiten li, and Hakadosh baruch Hu/ V'Taher Libeinu.
So basically this is a CD with Breslover niggunim, an all guitar and violin album with no horns. If you are the type to enjoy such stuff based on what I wrote above – go get one. You can get an extensive feel for the band by checking out their web site as well.
***
Comments on this review can be left below.