V'zoicher (Ari Goldwag, Mendy Wald, Shloime Dachs)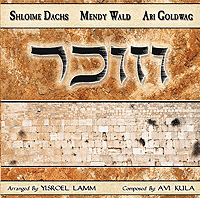 Reviewer: Mindy
It's been a very hectic music season, and the new cd "VZoicher" has gone largely unnoticed. Therefore I think I'll give you a brief rundown of the album.
The compositions are by Avi Kula, a young man who I believe lives in Eretz Yisroel. The compositions happen to be excellent and I hope he will soon make his mark as a picked-up composer. The singers also match the songs perfectly. Mendy Wald, Shloime Dachs, and Ari Goldwag are the featured vocalists on the album. In addition there is also a choir singing two selections. Ari seems to be heavily involved in the album, as he directed the choir and did the vocal arrangements and harmonies.
The funny thing about this album is that we here on the board already knew about it last March. When I told Shloime Dachs that I heard he was going to sing on an album with Wald and Goldwag he had no idea what I was talking about!!! So after such a long anticipation, the album is finally here. It's replete with great harmonies and beautiful choir work. Overall the songs are typical JM style songs, but they're nicely done and enjoyable listening. I think it's quite a feat that Avi, a mostly unknown composer, was able to get Shloime & Mendy to sing on his album. I think Ari is a friend of his, and Ari really makes the album complete.
1. Ki Yaakov
Nice fast song, and Shloime sounds great. He does some very good harmonies and the choir is an excellent backup.
2. Mimkomo
This is a really beautiful piece. It's another chance for Ari to display how beautifully he does slow songs. A very heartfelt song with great harmonies and choir work. There is a beautiful acapella part towards the end. This song is just great listening, as the tune and the vocals are gorgeous.
3. Ein Kamocha
Excellent Hora song. Mendy Wald is perfectly made for this song. I love the music, and the tune is amazing. Mendy does a wonderful job with it and it just has you jumping up and down. I don't think I have ever heard these words used in a song before, and it fits the tune perfectly. Definitely my favorite song on the album.
4. V'Atem
This is sung by a choir comprised of Ari Goldwag, Elazar Bronstien, Ruli Ezrachi, "Shap", Pinny Palei, Schneur Steinberg, Ari Hoch, Sruli Roberg, Moishe Kaufman, Shmuel Mordechai Horowitz, Chesky Lang, Avi Kula, and Dovid Zweig. The choir has an excellent sound to it. This is a waltz-type song. There are a number of soloists and I wish I knew who's who! But the soloists are great, and I'm amazed how many beautiful voices there are in this world!
5. Tzaddik
Sung by Shloime Dachs. I don't like this song too much. The words as well as the singer are more suited for a fast song, and the song is a bit too shleppy and boring. It's close to 7 minutes long, and it's not the type of lyrics that require a slow, heartzige song, so it doesn't appeal too much to me.
6. Hu Yigal
Excellent upbeat song. Although Ari Goldwag sounds much better doing slow stuff, he happens to sound great on this song! He manages to put his heart and soul even into fast songs, and the result is beautiful. It's my second favorite fast song on the album. It's original enough not to be completely typical, and it's easily singable. Great song!
7. Hashem Sfosai Tiftach
Nice song done by Mendy Wald. I'm a fan of Mendy's beautiful voice, and he is great at slow heartzig songs. The harmony is beautiful and the tune is gorgeous. Very nice song.
8. Ashreinu
Another song done by the choir. Nice fast song which sounds great for a bunch of yeshiva guys to sing together. Reminds me of Ruach Uneshama but more professional. This song also has some nice solos, the names of which I don't know ?
9. Haben
Another gorgeous slow song sung by Ari Goldwag. It's always a pleasure to hear this special young man pour his heart and soul into a song, and it's a true delight to hear his voice on another album! This song is on the same level as Mimkomcha which is track 2. Both are gorgeous. The choir does a great backup job.
10. VZoicher
I guess you can call this the "finale" song. Ari, Shloime, Mendy sing, and the three of them even sing parts together, with harmony, and you'd think they recorded it at the same time in the same studio! But I'm fairly certain that at least one of the two American performers recorded at least part of the vocals here and Ari in Yerushalayim, so it's kinda cute to hear all three singing at the same time, while they actually didn't sing it at the same time. The song starts off slow and then speeds up, and slows down again at the end, I really like the combination of the three voices and it makes the song really unique. They do beautiful harmonies together and switch off parts. It's a nice and enjoyable song to listen to.
All in all, it's a solid album. As I said earlier, Avi Kula is a great composer and I hope he will become recognized for it. I am also impressed that less than a year since he jump started his career, Ari Goldwag appeared on two albums other than his own! He just started working on his 2nd album and I, personally, can't wait for it. Shloime Dachs and Mendy Wald also got great songs to sing here and they sound wonderful. So if you're a fan of old-style, regular JM songs with great vocals and harmonies, this album is for you!
***
Comments on this review can be left below.